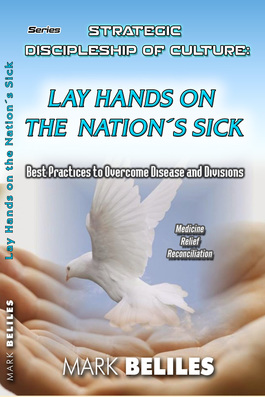 To Overcome Disease and Division the Church must Disciple Nations & Cities to Lay Hands on their Sick:

In the Great Commission found at the end of the Gospels Jesus made it clear that evangelism and church had a purpose: to "go . . .and make disciples of all the nations" (Matthew 28:19). In the historic church that first transformed pagan Europe into a Christian culture, we have evidence in history of how they understood their mission. They did not start building places of worship for several centuries. Their primary focus was on building people who were like ambassadors of another kingdom sent outside the church to every sphere of national life (i.e. the 7 "mountains" in each locality).

Often today the measurement of success for a pastor is if there is increasing numbers of members (and a mega-church is deemed superior), and construction of their own facilities. Along with that is the number of church activities and events (even though almost all are religious activities and rarely related to transforming culture outside the church). But in the New Testament those measurements of success are non-existent. Jesus himself and all of the Apostles would have been considered a failure by this criteria. None built a church building and their members were relatively small in number.

But when Jesus gave the mission to go preach, baptize and "make disciples of all the nations" He went on to also give them criteria for measuring themselves. In the parallel passage of the Great Commission found in Mark 16 Jesus added "signs" that would follow this mission. In other words, there was a way to measure progress of evangelism and discipling of nations. He gave them measurable goals as follows: "cast out demons, speak with new tongues, take up serpents and…drink anything deadly, and lay hands on the sick." Most people read these things in purely a personal manner, but since they followed Christ's reference to "nations" then these signs should be equally applied to the larger mission as well. Indeed when doing so, they become even more interesting.

Let us serve you. For each of the best practices below you will find great teaching and suggested resources in the book above. You also may discuss other tools and materials that fit your unique need by contacting us.

3 Best Practices for Overcoming of Disease & Division:
1 HEALING - Doctors and Nurses teaching and providing Biblical Care

2 RESCUE - Emergency Relief after Disasters plus long-term Development

3 RECONCILIATION - Healing the divisions in society


---
---
miracles & medicine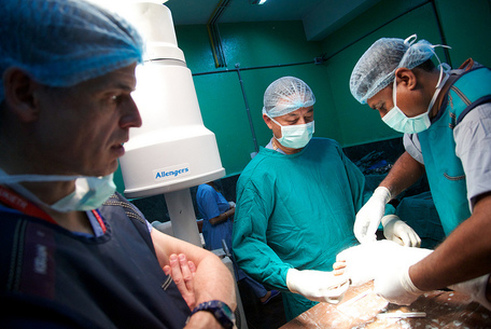 Those who work in the medical and health care field have a priestly calling. Doctors and nurses have historically been key to opening nations and people groups to the Gospel. But today the secularization in developed countries is trying to marginalize and compromise those people of faith in those professions.


More resources for the medical field will be forthcoming on this page, so please check back.
---
GOD'S HEALTH PLAN - THE AUDACIOUS JOURNEY TO A BETTER LIFERicki Pepin308 pages, softcover $15.99 click here to orderA Principle Approach Study to Food, Health Care & Environmental Issues. After 12 years of disabling, undiagnosed sickness for her son, the author had all but lost hope. She began her own research to find relief for her child, unaware of the vast scope of the journey before her. Sickness carries not only physical, but spiritual roots. Health encompasses not just diet, but lifestyle choices, medical decisions and environmental issues. The solution was through prayer, study and application of seven biblical principles. God's health plan is about wholeness and restoration; adding life to your years, not just years to your life. God's health plan is not a destination. It's a daily journey - a sometimes audacious journey. Are you ready to begin yours?

---

---
emergency relief for disaster victims
reconciliation
Divisions in society are often between races, ethnic groups, tribes, classes, religious denominations, and age groups. The church must learn how to step into these areas and offer leadership that heals these divides.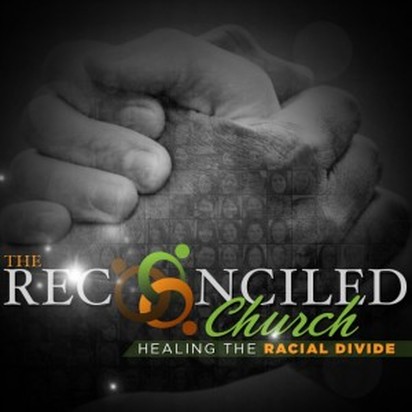 Healing the racial divide in the nation will take the Church's leadership. Watch and learn how we can address the many root issues causing divisions in our society. Together we can avert a national crisis and shift the racial atmosphere of the nation by healing the racial divisions in the church. Go to the website below to find out more.
http://www.thereconciledchurch.org/
---